GoDaddy is one of the most popular domain names and hosting providers for today. It is very famous among all the domain names and hosting providers. GoDaddy provides every type of domain name extension like others and also provides every kind of hosting whether it is shared, dedicated, or cloud hosting.
And as we know for an online business website or any kind of website domain name is a must. Without a domain name, it is not possible to do online business using any website. Over the internet domain name is the key name that identifies your website and makes you able to access this website from anywhere in the world.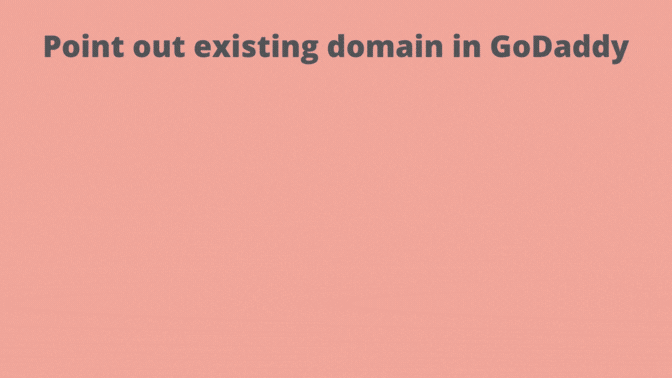 Today we are going to discuss how to point out the existing domain name in GoDaddy. But before that, I'll give a brief introduction of a domain name like what it is in the internet world?
What is a domain name?
A domain name is something that is a very important term in the world of the internet. Today we can open any website just by typing some URL in the browser from anywhere. So, a domain name is the address of any website using that we can open in any browser from anywhere.
GoDaddy is the best domain seller among all the domain sellers.
In simple terms domain name is the address of your website. Using only domain, people can reach out to your website.
So, this is how a domain name is important on the internet to identify your website?
How to point out the existing domain name in GoDaddy?
In GoDaddy, we can easily point out the domain name because of the simple UI of the GoDaddy website. Every option is clear even to newbies also. The website look is premium and simple so every option is easily readable.
Steps to point out the domain:
1. Log in to your GoDaddy account:
First login to your GoDaddy account to find an existing domain. It is very easy you can type the GoDaddy name in the browser and can open the GoDaddy website. You also can click here on GoDaddy to open the website. Go to the "Sign In" option and enter your credentials or you can also log in with your "Google Account" or "Facebook Account".
Note: But make sure you are signing with your existing GoDaddy account to find the domain. Because in this article we are telling you only how to point out an existing domain name.
After logging in to your existing account below screen will be there. You will see your account username in the orange box.
2. Open account information:
In this step, you need to open your account information to see or expand all the options. You can click on your username to do this.
3. Open list of purchased products:
Now, you need to click on the "My Products" option to see the list of all purchased GoDaddy products and domains from this account.
Scroll down and go to "All Products and Services" there you will find the list of all purchased products and services. You will find your all domain names there only.
It was very easy to point out the existing domain name in GoDaddy. As I told you earlier GoDaddy interface is very simple so you can easily point out things.
In this article, we only discussed how to find the list of existing domain names in the GoDaddy portal. There is you can also see an article for GoDaddy on How to change DNS?
We tried our best in this article to clear things with screenshots. I hope this is helpful for a newbie. Please subscribe to our newsletter for such articles, do comments in the comment section, and let us know what articles you need.