Many new websites owner directly jumps to the .com domain name although they do not need that one. It happens because they do not have proper knowledge of the domain selection process.
If you are confused between .com, .org, and .net domain names and not able to select the right one for your business. It means you might be a new website owner who does not have much knowledge about domain names.
As a website owner, you must know about the features and differences between domain names extension. Because once you choose the right extension as per the business need. It makes more sense and you're sure to get the right head start in the web space.
You can buy domain names at the best price from Hostinger using coupons.
Which domain name extension is perfect for your needs?
Domain names may become a critical asset to your business marketing. Domain names are more than an extension. You need to pay some attention when you choose a domain name extension for your business website. Go through this article to find out which one is the best: .Com, .Org, or .Net. See the detailed comparison to learn about the differences between each extension.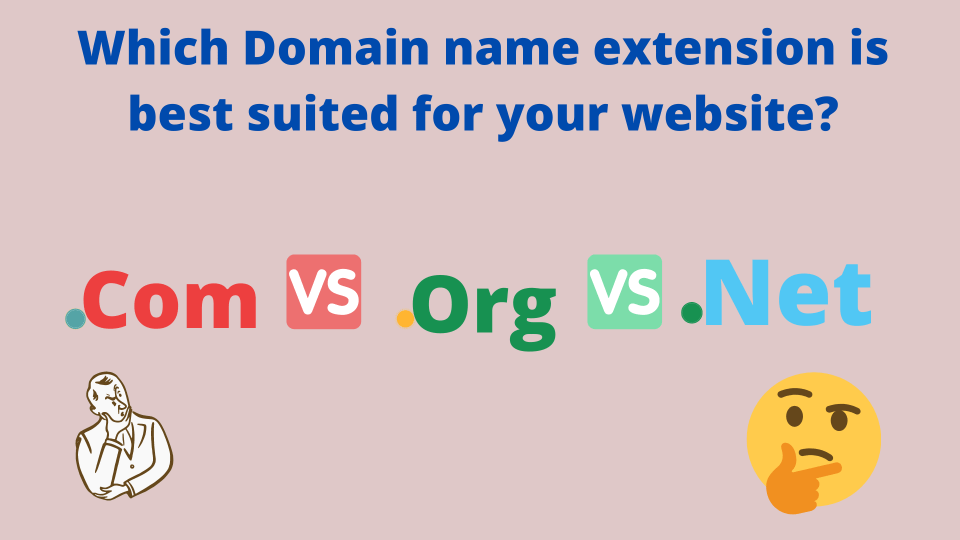 What is the .COM domain extension?
The  .Com domain name is the top-level extension. It indicates commercial business websites. This was added in 1985 to the domain name system. It is mainly for business websites or websites that want to generate money online. This domain stands for "commercial".
Some key points about the .com extension:
On the internet, more than 51.6% of domains are .com domains.
It is easy to remember.
This makes your site reliable and looks professional.
There is an issue with the availability of this extension.
Most mobile keyboards have a .com button.
What is the .ORG domain name?
The .org domain name stands for "Organization". It is a very popular extension preferred by big organizations and big companies. Now It became a common domain for any business or website.
.Org extension is not restricted to non-profit businesses or organizations.
Key points for.Org extension:
It is a great choice for non-commercial organizations.
This domain is an alternative to .com.
It is designed for groups and clubs.
The availability of this domain is higher than .Com.
As per the latest report 4.5% .Org domain names are active on the internet.
To get a domain on discount price use Hostinger coupons.
What is the .NET domain extension?
The .net domain name extension stands for "Network". Initially, it was designed only for those companies that work for the internet, internet service providers, networking companies, email providers, etc. But now, It is a common extension.
Some .Net key points:
More than 3.4% of websites on the internet have a .net extension.
It is specifically for internet service providers, networking, hosting providers, email providers, etc.
Many big fashion brands also use this .net extension as an exception.
It is an alternative to .com.
Higher availability present of this domain extension.
There are many online domain name generators are available. You can use them to generate the domain names and choose which suits your business or website.
To buy .Com, .Org and .Net domain at best price visit Hostinger website.
After this comparison, you must know what is the perfect domain extension for your business or website. For more articles on Hosting and Domain visit our blog section and subscribe to our newsletter.