There are a few points you need to consider when it comes to creating an email marketing strategy for your business. Because it is said that email marketing generates more conversions than other marketing methods even today.
Let me share a fun fact about emails that will blow your mind. According to a study, 293.6 billion emails were sent daily. So, you can imagine how this number can be beneficial for your business.
Now, these days small business owners are implementing email marketing strategies for rapid growth in their businesses. So a well-planned strategy with a clear goal can help you achieve the desired results for your email campaign.
Before going in-depth about the email marketing strategy we have to understand the basic definition of email marketing.
What is Email Marketing?
Email marketing is a form of marketing in which you inform a group of people about your products and services by sending those emails. It also plays a vital role in creating brand awareness and engaging your prospects with your business.
Now that you know the basics of email marketing, let's move on to email marketing strategy. Email marketing strategy plays an important role in your online business. So you have to be very precise while making the strategy for your business.
What are the Email Marketing strategies?
Email marketing strategy always plays an important role in any kind of business, whether it is small or big. So to make it easier for you, I have researched how you can create an email marketing strategy and outperform all your competitors.
All you need to do is promote your products and implement those strategies to reach your business goals. So let's dive into the strategy part of email marketing without wasting your time.
5 effective Email Marketing Strategies for your business growth
By just implementing these strategies into your business you can easily achieve your business goal. So let's just start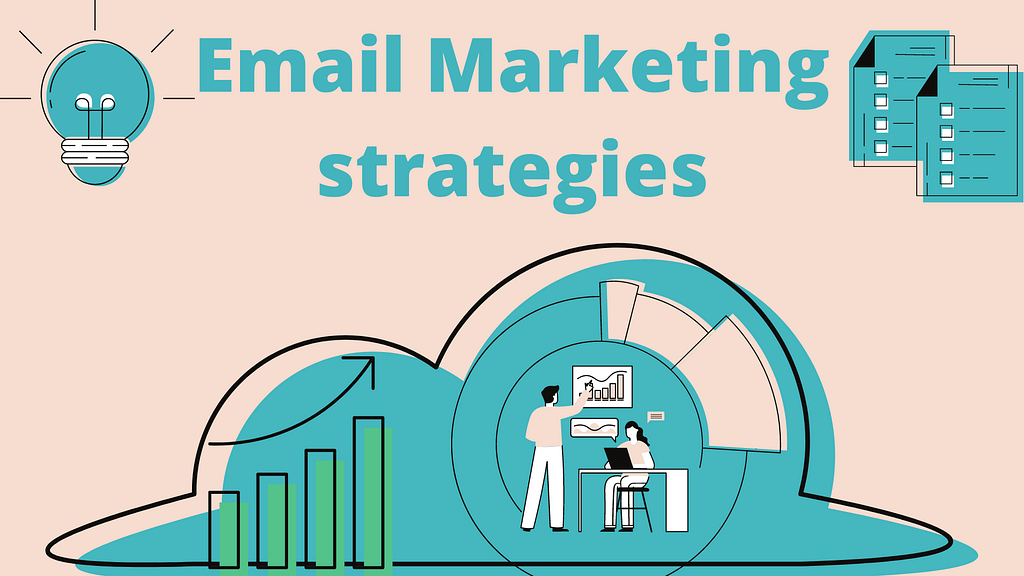 1. Personalize your Marketing/Email Message
This means creating content that focuses on the needs of your customers. Personalization term refers that the customer data you have that is used to create an intent-based message that focuses on their needs.
Big companies like Amazon use this personalized email strategy in their email campaign to increase their sales.
And you won't believe that more than 35% of the total sales that Amazon generates come from this strategy (both in email and on-screen).
But did you know that 50% of brands don't use this strategy?
This means that if you use this email marketing strategy in your email campaign, you can stand out against the competition. All you have to do is address the reader by his or her name and write the intent-based content that your customers are expecting.
Here is a data-driven example of using the sender's name in email marketing, if the subject of your email includes the sender's name it will increase the chances of open rates by 16%.
So as you know the importance of personalizing your message in an email, now let me suggest to you guys one more tip which will help you to personalize the content.
The actual process of personalizing content begins before you hit the submit button. So you need to be very clear about the information you want to ask your customer. Just ask for the information you need because nowadays people are buried with advertising everywhere around them.
2. Create a segmented list of your Email subscribers
If you do not know the meaning of segment in the context of email marketing then let me give you a quick overview of the term.
In fact, the term email segmentation is a convention every marketer uses to segment the email list into more target audiences. Because this segmentation of email data will help you to achieve the desired goal in your email marketing campaign.
Let us understand this process with an example to understand it better.
You just opened a store in your local area that targets a 5-mile radius.
So now how can you expect a good amount of sales in your store and how can you target the surrounding audience.
The answer is the segmentation of your email audience.
The best way to generate more sales at your shop would be to filter your email list with people living within 5 miles of your shop and then send invitations to visit your shop by email.
Now you understand the basics of segment your subscribers and you can easily be done this email filtering process through CRM software.
If you use this segmented process, it will increase your email open rate, leads, revenue, and chances of more customers. This process can be done by the following methods also.
The segment based on interest
3. Optimize your email to be mobile-friendly
According to a study in 2012, only 25-30% of marketing emails were opened on a mobile device.
But since 2012 this percentage is increasing day by day and now more than 50% of emails are opened on mobile devices.
This study indicates that day by day number of users are actively opening their email account on mobile devices. So this is a golden opportunity to influence more and more customers through your email marketing skills.
So nowadays every time you run an email marketing campaign must make sure that the email is optimized for mobile devices.
Because if you send an email to any of your subscribers most of the user uses mobile devices to excess the email and if your email is not mobile optimized then there are high chances the user will not go through the mail or directly they will delete it. So you have to be focused on your email optimization in the email marketing campaign.
The fun fact about email marketing campaigns is that almost 50% of the emails you receive are not mobile optimized. The positive side of emails is that if they are mobile optimized they can generate a lot more revenue per email than desktop emails.
So the next question that comes to your mind is how can we optimize our email campaigns for mobile devices?
Don't worry, below are some tips for creating mobile-friendly emails.
These days most email service providers are offering this functionality in their email campaigns. You can use their services to create and customize emails.

The second tip I am going to give you is to shorten your subject line so that the recipient understands the purpose of the email whether the email is useful for them or not.
4. Produce Useful and Targeted Content for your Subscribers
You must have heard from all the digital marketing experts that content is king. This is true because in an email you are presenting your products and services through email to your potential customers. So you have to be very precise about the content you are writing and the intent of your email.
Because in email marketing campaign it's all about finding the right customer and provide content according to their expectations. If you provide valuable content and your call to action is strong, then you can consider your email marketing campaign is going in the right direction.
The other thing is that we should also send a follow-up email to our subscribers to make our email marketing campaign very effective. Regular follow-up is important because it can increase your chances of getting sales.
When you send your first-ever follow-up email first thing you need to do is introduce yourself and what's your plan and how you and your services can be beneficial for them.
But one thing to keep in mind when sending a follow-up email is that your content should be long and informative. You should not send emails from the very beginning where you are selling your products and services.
Instead of sending this type of email initially, you can send these emails every week or once a month. Then you can build trust in front of your email subscribers and increase your chances of creating a successful campaign.
5. Create Automated Email Campaigns
Do you know the very first automated email was sent in the year 2001?
But the first question that may be coming to your mind is how exactly this type of email works and how it can be helpful in your business.
Automated emails or triggered emails are the types of emails that are sent out automatically to your email subscribers on their behavior. Some most familiar patterns of trigger emails are welcome to email, confirmation email, and transactional email.
According to research, some marketers found that the success rate of automated email campaigns is way better than ordinary campaigns. This happened because your automated email campaign directly targets the sweet spot of customers.
So here are some examples of triggered emails that can help you in your campaign.
1. Create a great subject line that will increase the open rate of your emails.
2. Always try to use personalized content so that your subscribers don't feel that it is an auto-generated message.
3. Try to be loyal to your customers. Or you can also start a giveaway campaign that will increase your value in front of them.
Conclusion
In the end, I'll have to say one thing that if you correctly use an email marketing strategy then it will help your business to reach the desired goal that you have? But it will take time because the one who waits will get good results after some time.
But remember one thing that email marketing is not as easy as it used to be. Now you need to optimize your content for multiple devices.
If you found this article helpful, let me know in the comment section. You can also check an article on "What is Email Marketing? What are the tools for it?"