Why everyone talks about On-Page SEO? And why is it important? Well, the simple answer is that, if you follow the SEO strategy from day one, you can get free organic traffic.
In today's article, I am going to tell you about on-page SEO and how to implement the SEO strategy on your website
Now, what is On-Page Seo?
On-page, SEO is the practice of boosting your website content for search engines and searchers. It means on-page SEO can help your website to get more traffic and visibility.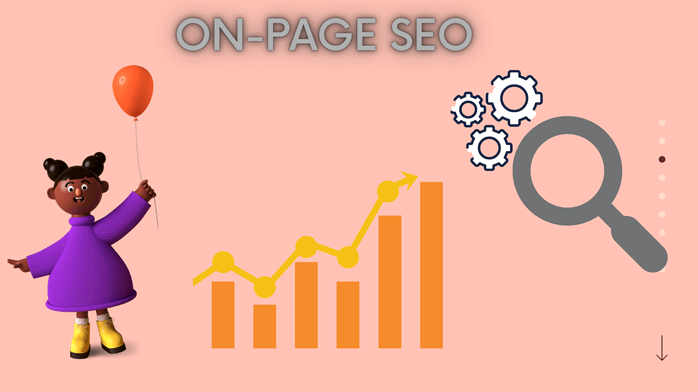 There are three main categories of On Page SEO:
Create unique content
optimize tags, meta description, and other on-page elements
Inbound and outbound links
So, now the next question that comes to your mind is why on-page SEO is important?
As we know that Google is always looking for fresh content for its users. So to fulfill google needs we need to work on our website content and SEO.
On the page, SEO helps your website overall efficiency. If you have done it properly, on-page SEO can help your website to rank on the first page of google search results.
If you implement the right on-page SEO elements such as title, tags, headings, and site content then you won't have to optimize your website on regular basis.
On the page, SERP will ensure that your website traffic is targeted and relevant to your niche.
It's a part of white hat SEO and by far the safest option for optimizing your content.
On-page SEO strategies are:
1. Decide one keyword you want to be known for or rank On google search results.
Seo is a strategy in which you have to be in for long period. So instead of focusing on overnight ranking just prepare your marketing strategy.
Usually, people think that they need to find a popular keyword on which they can rank 1st on google. But a lot of times people forget about their website niche and they do their research wrong on keywords.
So my suggestion is to you that just think about your niche and then do research on keywords. The most important thing is if the term is not popular, then it's easier to rank for that term.
But the cache here is you are not going to get more traffic from that keyword instantly but in long term, it's really important for your on-page SEO.
Title and heading are the most important elements of any web page in terms of SEO.
You need to include a focus keyword in your title for that particular web page.
If it's possible then try to include it in your webpage heading. It will give your webpage extra benefits in terms of on-page SEO for this keyword you're trying to rank for.
Meta descriptions or tags are not going to help you rank in search engines. However, they are important in terms of describing your articles. The meta description will be read by people, while they are doing their query on any search engine.
Therefore, you need to present your meta description as simply as possible so that it matches with user queries and they read through them.
4. Check for copied content
Like it sounds, If you are using copied content on your website then it's not good for SEO. Surely Google or any search engine will not penalize you for this but it will affect your ranking.
So try to provide something new that brings value to the users
New case study
Step by step explanation
Provide content in simple language
Image alt tags are used to provide information about your images.
It helps the search engine understand what your web page is about and tells them that you might have better content than just plain text.
Simply just enter alt text in your image that describes the meaning of the image. Try to avoid copied alt text.
6. Highlight your keyword once in your post
Highlighting your keyword In an article or webpage has little impact on SEO. Just highlight keywords once in an article do not try to highlight more than one it will be bad for on-page SEO.
7. Inbound and outbound links
inbound links are used within your website to boost up your Pages. You can do this by simply linking to other articles from within your content.
So, don't think that adding tons of inbound links helps to boost the SEO of your web page. Search engines are aware of these situations. It can end up hurting your SEO efforts. If it makes sense to create a link then do so otherwise you don't have to create.
While on the other hand outbound links are kind of the same as inbound links but the major difference between them is:
In inbound, you create a link to your web page but in outbound, you give reference to another webpage.
If you've made it this far, congratulation now it's time to implement them on-page SEO strategies on your website that can help your pages get found on the search engine result page.
Have questions? Feel free to discuss this below. And for the latest articles subscribe to our newsletter.