In this article, I will explain exactly what email marketing is and how it works? By the end of this guide, you will know the basics of it. And know how to start an email campaign for your business.
Email marketing is by far the best and most profitable selling channel to promote your products and services.
This should be the key pillar of your business. You should always include this in your digital marketing strategy.
But if you are confused about where to start then you are in a right place. Because it is perfectly normal for beginners. It is better to learn how it works in the beginning otherwise you will get lost in the sea of tools, techniques, and campaigns.
First, let see what we discuss in this guide:
What is email marketing?
Why your business needs this marketing strategy?
How to launch your first campaign?
Tools for email marketing.
What is Email Marketing?
Did you know that an email was sent long ago in 1971 by a computer engineer named Ray Tomlinson? And this was the beginning of a new era for communication in the digital world. After that email marketing can be an effective way to advertise your products and services.
It is a power full marketing channel that uses emails to promote your business products and services. It also plays an important role in your business marketing strategy along with lead generation, brand awareness, and drive sales.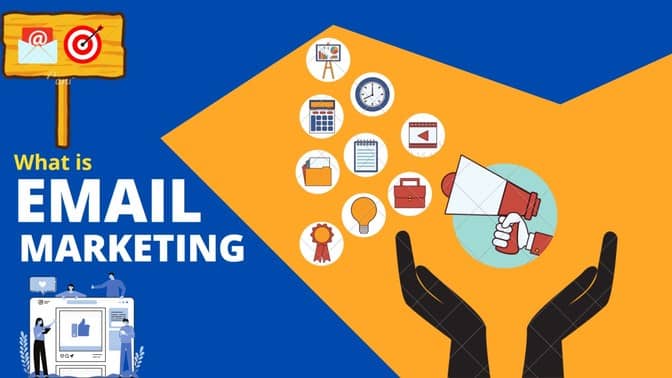 This becomes such a popular selling tool for business partly because when you send emails message to your email customers about awareness of the latest products and offers. Then one of your customers may convert into a customer.
It can help you build a relationship with your audience or customer base. So you can target your audience as well as your marketing message to your audience
It is a segment of internet marketing, which can bring traffic to your website, social media, blog, etc. through online marketing.
Now that you have understood the basics of it, now is the time to know why your business needs an email marketing strategy.
Why your business needs this marketing strategy?
Study shows that email marketing has a more conversion rate as compared to the other social media platform. One more advantage of it, for your business, is that customers are more likely to see an email than social media. So, emails are an essential aspect of the growth of your business.
Now, the 3 major objectives to accomplish the growth of your business using email marketing are:
Conversion (Selling your products and services)
Brand Awareness
Customer faith
Using the above key points, you can create a complete way to convey a promotional message to your audience list.
How to launch your first email marketing campaign?
The first step to create your first email marketing campaign for your business is:
Choose the right software
Build your Email list
Set up a welcome email for your subscribers.
Define the goal of your campaign
Build clean, simple, hassle-free designs.
Optimize your email content
Send your email to select audience
Monitor your campaign
While all these steps are important, the most important is creating a perfect email list that suits the needs of your business.
However, over a longer period, you can start tracking how much money people on your list spend on average.
Tools for email marketing.
Marketing channels evolve, It is one of the most cost-effective marketing strategies of small businesses. This is because it is easy to manage and gives you full control and allows you to interact with your audience.
It is very important to understand that your business success depends entirely on the email marketing software you choose. If you are not aware of the features of email marketing tools, then you may pay a large amount for other marketing features.
So, now it is time to take a look at some of the most popular email marketing service providers. And how you can implement this software in your business to generate more sales.
I've personally selected one of the most popular email marketing strategy software for you is Getresponse.
It is one of the most powerful and simplified tools to send emails to your business. You can use this tool to create pages and automate your marketing strategies. Getresponse is used to:
Grow your audience
Engage with customers
Sell your knowledge
Boost online sales
However, these are some of the things you can incorporate into your business to ensure that your strategy works. So this tool will help you to achieve your business goal.
You can check an article for a Free email marketing tool in our blog section.