Have you ever thought, that the Robots.txt file can be a very important file for your website? If, NOT here is the reason why and how?
What is the Robots.txt file?
It is a file that tells search engine crawlers what URLs the search engine crawler can access on your website. Robots.txt helps to avoid the overload of multiple requests from a site. What many people think, it is a file that keeps a web page out of Google, which is a completely wrong understanding. 
Note: To keep a web page out of Google or unindexed, you have to block indexing with noindex or password-protect the page. How you can block indexing with noindex ?
Snapshot of the Robots.txt file and what is the meaning of it?
User-agent: Googlebot
Disallow: /nogooglebot/
User-agent: *
Allow: /
What does the mean of the above-given snapshot, Here it is:
The given user agent Googlebot is not allowed to crawl any URL that starts with http://example.com/nogooglebot/.
While other user agents are allowed to crawl the entire or full website. If we remove this the result would be the same; the default behavior is that user agents are allowed to crawl the entire site.
So, now you have a good understanding of what the Robot.txt file is?
Now we will discuss how to check the Robots.txt file for our website and what is the content inside it?
There is a very popular tool available on the website websiteplanet that is completely free. It is a good tool that tells everything about Robots.txt. Here are steps to access this tool from the given website:
First, visit the given website.
Then go to the Tools section.
Click on "ROBOTS.TXT CHECKER" it will open that tool, which you can use to check or validate your Robots.txt file.
Next, You have to enter your Robots.txt file address like below in the tool:
Example: thecouponkingdom.com/robots.txt
 5. Now hit the "CHECK" button that's it. 
Here you go after few seconds, you will see all content of your Robots.txt file as shown below: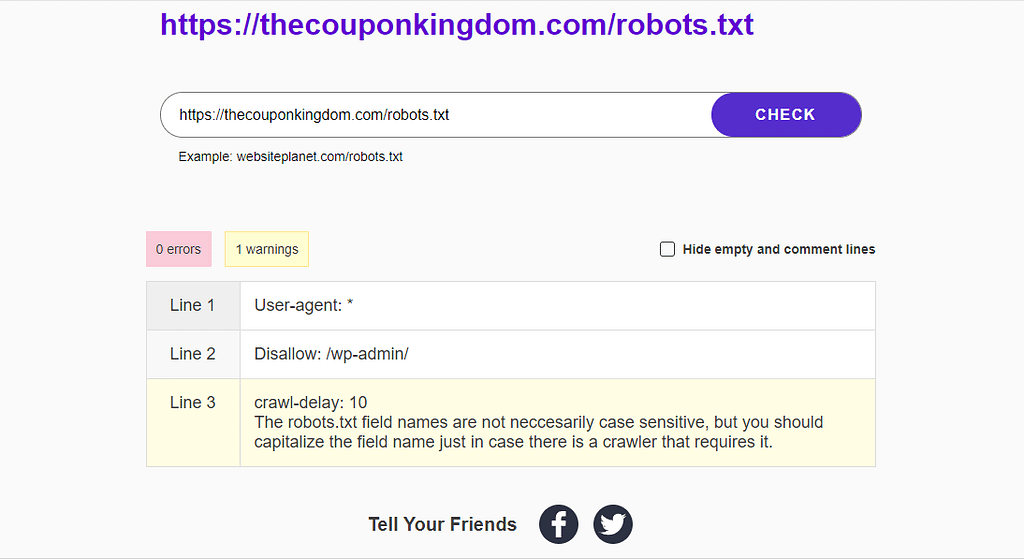 What is best about Robots.txt Checker?
The best thing about this tool is that you will see a detailed report with all errors and warning with a solution. You can use these solutions to remove the error and warnings from your robot.txt file.
There is one checkbox using that checkbox, you can hide the empty and without comments line easily.
It will show you only those lines where some comments are given, and these comments must be given by this tool to highlight the error and warning with a solution.
So, It is very easy to check the Robots.txt file errors and warnings using the tool and that is the reason I prefer this toll among all other tools which are available. Go and check out this awesome tool. And know if your Robots.txt file is impacting your website SEO. However, you can check out the below article for SEO in detail.
If you like this given information please subscribe to our newsletter for the latest posts. Also, visit our blog section for more articles.