While choosing a hosting plan (Shared hosting, Cloud hosting, etc.) we must keep some factors in mind for a better hosting plan. Hosting plans depends on certain factors like reliability, security, customization, etc. But If you do not keep those factors in mind, probably you can choose the wrong hosting plan as per your business requirement and that can lead to some problems for you later.
So, in hosting there is one basic plan that is shared hosting. Shared hosting gives you everything except some extra features for startup businesses. This shared hosting is good for your business in starting. But once your site gets the traffic it is hard to manage for this plan and you need some extra features.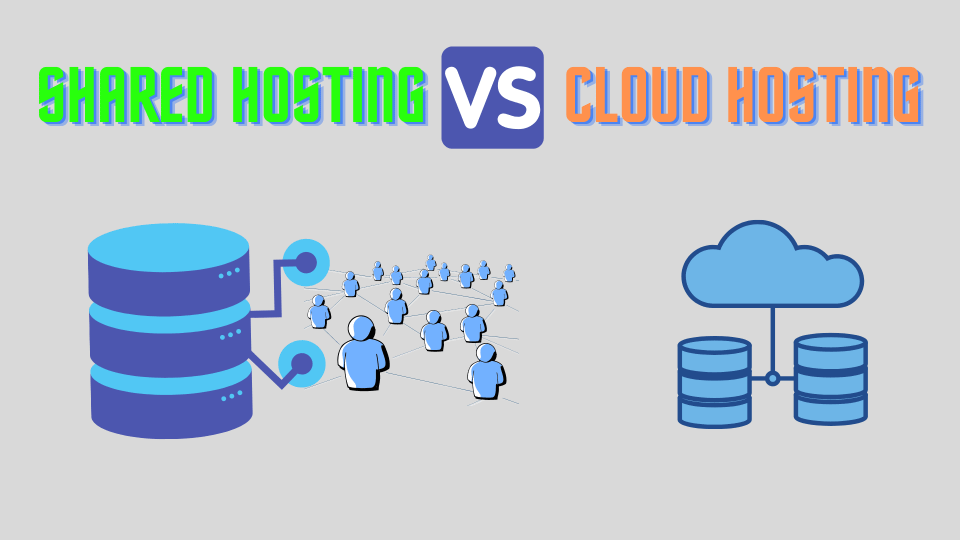 These extra features are provided by other hosting plans. So here you need to choose one better hosting plan. But for you, it may be a bit confusing which one plan you should choose? Here in this article, we will tell you why should you choose Cloud hosting over Shared hosting?
To know more about cloud and shared hosting, we will compare both hosting plans in detail.
What is Cloud Hosting?
It is a different type of web hosting where multiple different servers are being used to balance the load and maximize the uptime. Instead of using only a single server, your website can be into a "cluster" that uses resources from the centralized pool. It means that even if one server fails, the other keeps everything up and running.
Shared hosting is a basic type of web hosting plan where only a single physical server hosts multiple sites. And many users utilize those resources on that single server, and that makes the costs low for each user. Each user gets a section of a server and there they can host their website files. Shared servers can host hundreds and more than that of users.
1. Reliability:
In cloud hosting, multiple servers are interconnected where if one server fails others will keep your websites up and running and it happens automatically which is very reliable. While in shared hosting there is only a physical server for multiple users. If anything happens to this server it can cause your website down for some time that is neither good nor reliable.
2. Scalability:
Cloud hosting gives you scalability in terms of usage and downtime. Cloud hosting keeps three copies of your files in the cluster from different servers. So, if one server gets failed it will create the data copy for that server from the cluster and migrate your website from that crashed server to a different server in minimal time. If your website getting more traffic day to day you can add extra resources as per your website requirement and cut them back again when traffic is less. While these features are not possible in shared hosting.
3. Performance:
Since cloud hosting uses multiple servers so it gives better performance to your websites at any point in time. It gives your website maximum uptime. While in shared hosting many times you face speed issues if any other user is using the bulk resources of that server.
And it might can lead to minimum uptime for you and that user.
4. Security:
Cloud hosting provides an advanced level of security and protects your websites from malware, cross-scripting, DDoS attack, etc. Where shared hosting gives you enough security but not like cloud hosting.
5. Pricing:
Cloud hosting is costly as compared to shared hosting but cloud hosting offers you a pay-as-you model. So, you have to pay only for those resources which you are using on your website. Pricing is the reason why new users prefer shared hosting plans.
6. Disaster Recovery:
If you choose a cloud hosting plan it distributes the copies of your data across various servers. So, if there is any disaster or failure you can restore your websites the same like it was before. While in shared hosting you have to take backup manually every time.
There are many hosting sellers in the market and they offer all types of hosting at various prices. Even there are some hosting resellers are also present in the market. If you want to choose the best hosting at a minimal price you should visit the HostGator website.
HostGator provides all kinds of hosting at cheap prices as compared to other sellers. If we talk about HostGator customer care service, HostGator provides 24*7 customer care services.
HostGator is good while it comes to a cloud hosting plan. Because HostGator provides you cloud hosting plan at a reduced price in the market.
For more about HostGator, you can visit the HostGator website. 
To get more articles on Hosting and Domain visit our blog section and for the latest posts subscribe to our newsletter.